To find out more about any of the products listed and others that may be suitable for your aircraft,
please call or email us at info@sharmanavionics.co.uk. We look forward to hearing from you.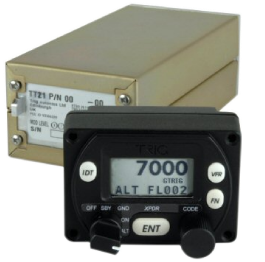 The Trig TT21 is a two part transponder system, which includes an integrated altitude encoder. In design and technology the TT21 is identical to the Trig TT22; the only difference is that the transmitted output power of the TT21 is lower, qualifying the unit as Class 2 transponder. Class 2 transponders may be used on aircraft cruising slower than 175 knots, and operating below 15,000 feet IFR or VFR.
The front panel controller is smaller than a standard instrument, and the remote transponder is not much bigger than a pack of cards. The TT21 can fit into the smallest of aircraft - and yet it is fully certified and compliant with all the transponder requirements. The TT21 can be mounted in a standard 57mm (2 1/4 inch) instrument hole, or where space is really tight, in a compact mounting just 42 mm high.
Low Weight - less than 500 grams
Minimal Panel Space
Low Power consumption
130 Watts Nomnal Output
Integrated Altitude Encoder
Support for 1090ES/ADS-B Out
European ETSO and FAA TSO approved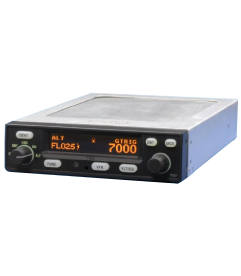 The TT31 is a power-efficient, inexpensive, Mode S transponder that meets the European elementary surveillance requirements. The TT31 fits in the same mounting tray as the KT76A transponder, making it a great choice for either upgrades or new installations. With a new software upgrade and a connection to an appropriate GPS, this will make the TT31 compliant with the FAA final rule on ADS-B Out for 2020. Follow this link to be re-directed to Trigs pre-approved
Minor Changes
listing for the TT31. Sharman Avionics also has a comprehensive listing of EASA approved minor modifications not listed on the Trigs website. Contact us for more information.
European Mode S
Low Power Consumption
No Cavity Tube
240 Watts Nominal Output
Plug and Play Installation
Backlit LCD Display
Easy to Use Rotary Knobs
Timer/Stopwatch Function
Altitude Monitor
Certified 1090ES/ADS-B Out (TSO C166b)
European ETSO and FAA TSO approved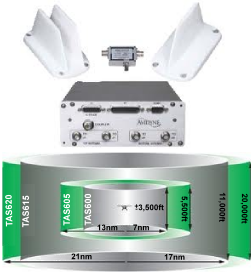 With the TAS600 Series, Avidyne offers five different dual-antenna TAS systems, tailored for the type of aircraft you fly. These feature-rich, affordable TAS600 series systems are fully TSO certified and fully ADS-B upgradeable, surpassing the performance capabilities of many higher-cost traffic systems and setting a new standard for active-surveillance traffic capability and affordability. Active-surveillance is vital for traffic systems to provide a full measure of safety - in busy terminal areas as well as in non-radar airspace.

Avidyne's TAS600 series systems detect and actively interrogate other aircraft transponders within range, display the surrounding traffic on a host of compatible display systems, and provide audible and visual alerts in the event of a potential traffic conflict. All TAS600 series systems provide real-time traffic monitoring and advisories, are not radar-coverage limited, and operate independent of ground-based systems.

And with over 10,000 Traffic systems now in service, Avidyne's TAS600 Series lets you fly with confidence, knowing you have a proven, accurate, and active-surveillance traffic system.