To find out more about any of the products listed and others that may be suitable for your aircraft,
please call or email us at info@sharmanavionics.co.uk. We look forward to hearing from you.
The AMX240 is a full-featured audio source selector panel, intercom, and Marker Beacon receiver that provides outstanding features and sound quality, while incorporating Avidyne's legendary "Flying Made Simple" user interface. Large, easy-to-read, LED backlit buttons provide simple mode selection and at-a-glance annunciation of your current audio and intercom configuration. Supporting three transmitter inputs, nine receiver inputs, plus two inputs for stereo music and five unswitched inputs, the AMX240 also features a six-place high-fidelity stereo intercom, public address (PA) function, plus Bluetooth® music and full-duplex cell phone interfaces.

Dual radio monitor capability allows the pilot to listen to Standby frequencies on the Avidyne IFD-Series VHF radios with automatic muting when active frequency is in use. A dedicated Replay button provides a "say again" function that repeats previous ATC communications, and a dedicated Split button allows the pilot to transmit on Com 1 while the Copilot transmits on Com 2.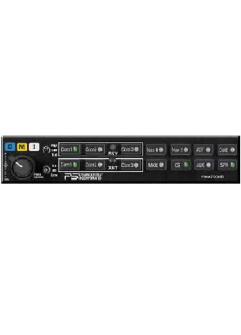 The PMA8000 series is a direct slide-in replacement with the GMA340 audio panel. The PMA8000 can even come with a Bluetooth® interface. Several advantages of the "BT" version is the elimination of wires and an improved user interface. The PMA8000 audio panel is FAA TSO and European ETSO approved.
Features for the PMA8000B Audio Panel
IntelliVox® automatic VOX system with individually gated microphones
6 - Place hi-fi stereo intercom with Soft Mute™
Monitor Mode
allows automatic muting of non-primary radio
New Enhancement
4 - music mute modes: Mute On, Mute Off, Radio Mute, Intercom Mute
New Enhancement
Dedicated front panel music volume control
New Enhancement
Built-in Marker Beacon Receiver
Cellular telephone input with "DuTel™" telephone distribution
Easy front panel control for telephone side tone on/off
New Enhancement
Digital aircraft radio recorder (IRS™)
Front panel utility jack for phone, iPod, or unswitched audio warnings
Split mode for dual audio panel capability
2 - Differential, hi-fidelity stereo music source inputs (no ground loop noise)
3 - Isolation modes - Pilot Isolate, All, and Crew
5 - unswitched inputs, with front panel unswitched input
Selectable music distribution for passengers
Selectable intercom mode with special "Alternate Intercom Mode"
RAM (Radio Active Mute) eliminates constant back ground noise from radio static